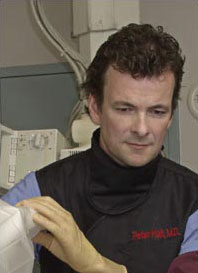 Photo © 2003 Steve Alley
Our Physicians: Peter Halt, M.D.
Columbia University
Brigham and Women's Hospital, Harvard Medical School, Boston, MA 2000-2001
Fellowship - Musculoskeletal and Emergency Radiology 1996-2000
Resident - Radiology 1995-96 - Intern - Medicine
Dr. Halt came to Mercy Mount Shasta after training in large cities and university hospitals and has been pleasantly surprised at the level of excellence in the local doctors, nurses and technical staff.
Our radiology department has modern CT, MR, nuclear medicine and ultrasound divisions that rival any hospital in the country.
Dr. Halt has had extensive fellowship training in orthopedic radiology in a world class radiology department, including MR and conventional anthrography, as well as diagnostic and therapeutic injections using CT and flouroscopic guidance.
We can almost always accommodate same day appointments, and have a one day turnaround for reports, with immediate interpretation for emergencies. We can provide films and/or digital images on CD-Rom, including a mini version of our PACS browser.
---